(Photo by Drew Angerer/Getty Images)
NEW YORK (AP) — Earlier this week a man driving in Times Square ran over 22 people, leaving one dead and four in critical condition. The motorist is being charged with murder and 20 counts of attempted murder.
26-year-old Richard Rojas, of the Bronx, was charged late Thursday also with five counts of aggravated vehicular homicide.
Prior to this incident, Richard Rojas was in the Navy, but discharged for disciplinary problems. When he was arrested he said that he was "hearing voices" and "expected to die. Could this be another issue with mental health?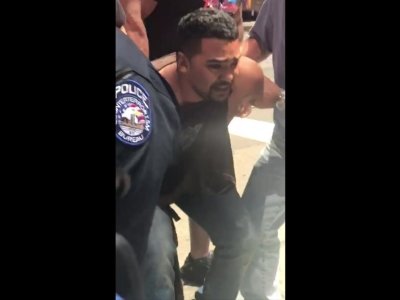 A witness noted that when he was arrested, "He began screaming, no particular words but just utter screaming. He was swinging his arms at the same time.
As far as drugs/alcohol  go, Rojas was not under the influence of alcohol, but drug test are currently pending. A week before his arrest, he was arrested for pointing a knife at a notary because he believed he stole his identity. In court, Rojas pleaded guilty to a harassment violation.
A neighbor of Rojas says that he hasn't been the same since his 2014 return from the Navy. He adds that,"he's been going through it."
Click HERE for more information.
(© Copyright 2017 The Associated Press. All Rights Reserved. This material may not be published, broadcast, rewritten or redistributed.)
Comments